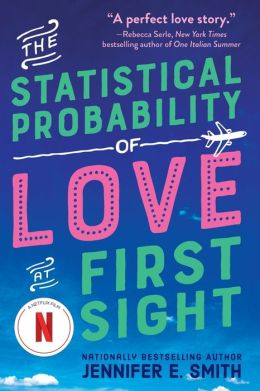 Today should be one of the worst days of seventeen-year-old Hadley Sullivan's life. Having missed her flight, she's stuck at JFK airport and late to her father's second wedding, which is taking place in London and involves a soon-to-be stepmother Hadley's never even met. Then she meets the perfect boy in the airport's cramped waiting area. His name is Oliver, he's British, and he's sitting in her row.
A long night on the plane passes in the blink of an eye, and Hadley and Oliver lose track of each other in the airport chaos upon arrival. Can fate intervene to bring them together once more? Quirks of timing play out in this romantic and cinematic novel about family connections, second chances, and first loves. Set over a twenty-four-hour-period, Hadley and Oliver's story will make you believe that true love finds you when you're least expecting it. ....
more
While I was searching on Google about "The probability of him remembering me", I encountered this book. So I decided to borrow it from the library. Later, decided not to read but then thought - let us see, what's in store. I'm amazed some of the incidents in this book - how rightly coincides with my thoughts.
For eg.,
If you remember from my post, this is how I was amazed to see
how fresh Steward looked when I woke up in the morning.
And again, if you remember, this is how I thought about myself. Is it coincidence or human thinking??
This is how I feel, when I hear anything related to Germany . BTW, "knackered " is used by Britishers. And that word and the accent reminds her about him.
Lately, I ponder about this a lot.
Nowadays, I strongly feel that he was the one for me. And did not know until I met /lost him. I don't how to say in words but he feels so right for me. Of course, critic within me is saying, "BS! you don't even know anything about him."
Reminiscing!!! Oh yes! that's what I did and that's what I do. And like her, it used to put a smile on my face.
Well, I did not know about all these until I experienced it. At least, she felt the pain of losing him, right then and there , but for me, it took long time to realize that I lost him forever. I did not know that my story will be one among many missed-connections in this world.
Hahaha.....That's not true! I'm the PROOF! Maybe that holds true for him!
Who knew?!?!
Let us see!!
Please don't judge me !
At the end, the novel did not reach to my expectations. I wanted a story, where the characters cannot find each other, try and try in different ways to reach, but no luck, but then suddenly fate brings them to same place at the same time. Emotions between them is too much to handle it on the screen or in novel. Totally not like "Before Sunset", where the director did not deal properly with their emotions. It was uncompromising disappointment to watch emotionless characters at such a juncture of their lives. I gave a second look to that scene on youTube - maybe that's how you react...who knows.
Yeah, why did not we exchange phone numbers and stuff? Guess what, you did not come to the galley....
Just like this novel, I can so also think about FATE.
Why I did not get ticket from DFW?
Why did I travel from Houston out of all places in USA?
Why did I even travel on Tuesday when according to Indian superstition, travelers are not supposed to travel on Tuesday and I strongly believed in that?
Why did I seat where he had to serve?
Why not other side or anywhere in the plane, where we don't even get a chance to meet?
Why his jump-seat was at the back of the plane? Exactly that's where I meet him, but that was the reason I did not get a chance to say "bye" too.
Even for him, who knows, he was supposed to be off-duty or on any other plane, but destiny chose this format to make us meet. BUT IN THE END..NOTHING!
Out of 100 passengers, why he chose only ME!
Why did I board the plane before anybody else in the economy class in my section? So that he can get a good look at me.
Why I had to go to restroom? Cause I had to meet him.
Why I did not acknowledge his move?
Why I have to go through these emotions when I was perfectly alright that day when I stepped out of the plane?
Why did I learn painting? So that in future you can draw him.
If my story was not real, then steward after waiting for long long time for my arrival in the galley, gets dejected and thinks to step out but at that same time, I will make up my mind to go to the galley. AND there the HAPPY ENDING. But in real life, clock ticks, ticks and ticks - steward gets disappointed and steps out. First of all, I won't show up but later gives him trash to pick up. Just how thoughtful I am. And the worst is, after doing senseless/thoughtless deed of not going to the galley + giving the trash, I will think that he will still be thinking about me so I keep on waiting. This is reality show, my friend. It sucks!